Husband was 'down south' on the weekend and brought home a present for me...
... a big box of rhubarb. Now, husband's favorite is Strawberry Rhubarb pie, so it makes me kind I'd wonder who the gift was
really
for.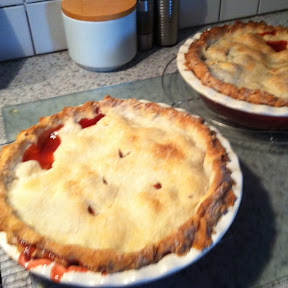 Filling for pie (enough for 2 large pies)
1 c sugar
1 c brown sugar
1/2 c cornstarch
1 tsp cinnamon (or there abouts because I don't measure)
1/2 tsp nutmeg (as above)
8 c rhubarb cut into pieces
4 c slices strawberries
mix all together and fill pie shells and then top
Pie crust (enough for 2 large pies and tops)
6 c flour
2 tsp salt
2 T sugar
Mix in a bowl
1.5 c water
1.5 c lard
Boil in a pan until lard is melted and stir vigorously into the flour mixture
Divide into balls and roll out.
Can't wait until I can bake these pies with our own strawberries and rhubarb! Everything tastes so much better from the garden!