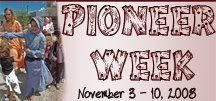 This week is the Pioneer Week Challenge courtesy of
Crunchy Chicken
. Since I have been reading the "Little House" series over the past couple of weeks, I was gung-ho to join.
I actually began a little early because I wanted to start using the Hallowe'en pumpkins. The story behind all the pumpkin mania (as you will see if you keep reading) is that I have been unable to purchase a pumpkin for Hallowe'en over the past few years even after running to every store in town. This year I managed to purchase 3 large ones at $3.99 each! There is no way that I will be wasting almost $12.00 worth of food!
I recreated Ma Ingalls pie recipe from one of the books in which she uses green pumpkins in a pie. I made a crust and placed in it sliced pumpkin. I then added brown sugar, spices and some butter and topped it off with an upper crust. It turned out yummy, but the kids thought it was weird as it didn't look anything like a traditional pumpkin pie.
I also made a Curried Pumpkin soup. It was very tasty, but next time I will add a little less hot sauce. Here is the recipe...
Curried Pumpkin Soup Recipe
2 cloves garlic, peeled
1 med onion, peeled and quartered
A few drops of hot sauce
2 Stalks celery, cut into -2-inch lengths
3 lg. Carrots, peeled and sliced -1/4 inch thick
2 tbsp. Olive oil
1 3/4 lb. pumpkin, peeled, -seeded, and cut -into 1-inch dice
3 c Low-salt chicken stock
1 Bay leaf
2 tsp. curry powder
1 tsp. Turmeric
1 1/2 tsp. salt
freshly ground pepper

Place garlic in a food processor and pulse until finely chopped. Add onion and pulse until finely chopped. Set aside. Place jalapeno in food processor and pulse until finely chopped. Add celery and pulse until finely chopped. Set aside. Place carrots in food processor and pulse until finely chopped.

Heat 1 tbsp. of the olive oil in a medium stockpot over medium heat. Add the garlic and onion and sauté, stirring occasionally, until onion is translucent, about 6 minutes. Add jalapeno, celery, and carrots and sauté for 5 minutes. Add the pumpkin, chicken stock, bay leaf, curry, turmeric, cayenne, 1 tsp. of the salt, and pepper to taste, and bring to a boil. Reduce heat and cook until the vegetables are tender, about 8 minutes.

Place the cooked pumpkin and about 1/2 cups of the liquid in the bowl of a food processor and puree until smooth. Stir puree back into the soup. Can be garnish with roasted pumpkin seeds.

This evenings dinner was a simple one (keeping in theme) of boiled potatoes covered in cabbage sauted with onions and bacon, and leftover lamb roast, and of course steamed pumpkin.
I also finished knitting the first slipper that I will be felting. I put it on and I look like I have clown feet - it is so huge! I hope it shrinks down enough when I felt it.
What it looks like now....
What it is suppose to look like.
The free pattern can be found
here
.