I currently have a huge stack of books from the library piled in the kitchen in a basket beside the fireplace. The books mainly cover rare farm breeds, pigs, ducks and square foot gardening. Can you tell where my mind is?
SON
: Just finished reading Dick Proenneke's "One Man's Wilderness, An Alaskan Odyssey" and really enjoyed it.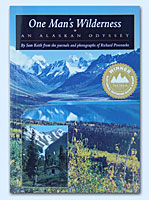 If you don't know anything about
Dick Proenneke
or haven't seen his video journals on PBS, he is a very interesting fellow. He retired at age 50 in 1967 and decided to build his own cabin by hand on the shore of Twin Lakes in Alaska. The first summer he scouted for the best cabin site, and cut and peeled the logs he would need for his cabin. He then returned the next summer to finish the cabin where he lived for over 30 years.
Son is currently reading "Crazy Man's Creek". Here is the book description from the publishers website:
In Crazy Man's Creek, author Jack Boudreau tells of the characters who have "caught the fever" in the rugged McGregor Mountain Range east of Prince George. Long recognized as some of the toughest bush in British Columbia, it was home to many who chose to lose themselves.

Once there, life included confrontations with grizzly bears and raids by wolves. But if men were to snap, it was the long cold winters and the deafening silence that did them in.
DAUGHTER
: Has finshed reading the "Hunger Games" series by Suzanne Collins for the second time.
ME
: I'm reading "BEEF: The Untold Story of How Milk, Meat and Muscle Shaped the World" by Andrew Rimas and Evan D.G. Fraser. I'm only a few pages in, but so far a rather interesting look at how human civilization has been shaped by the cow.
HUSBAND
: Husband is not a reader in the sense of sitting down with a novel and enjoying it. He does read rather regularily magazines such as Garden Railway, Mother Earth News, Harrowsmith, Canadian Gardening, Hobby Farm and Hobby Farm Home.
Post shared on Barn Hop #9